>
>
>
>
FEM1000 - Integrated
FEM1000 - Integrated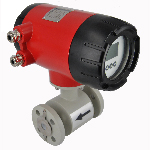 The operation of FEM1000 is based upon Faraday's Law, which states the voltage(E) induced across any conductor as it moves at right angles through a magnetic field(B) is proportional to the velocity(V) of that conductor.
E=KBVD
K = Constant.
B = The magnetic field strength.
V = The velocity of the conductive medium.
D = The distance between probes.
The voltage generated in a conductor E is output as standard electrical signal.
Characteristics
No moving parts - easy to maintain; No pressure drop due to no choked flow parts.
DN10...DN2000
Applicable to aggressive medium
Digital LCD for instantaneous/total flow rate display
Operating temperature:-20°C ... 180°C
High reliability, output to PLC directly
High accuracy, anti interference capability
No moving part, long life
Specifications
Applicable medium:
Liquid with conductivity > 5Ás/cm
Measuring range:
0.25 - 10m/s
Nominal diameter:
DN10...DN2000 (Customizable)
Accuracy:
0.25%, 0.5%
Repeatability:
±0.15% of readings
Operating voltage:
220VAC±10%; 24VDC±10% Lithium-ion battery
Output signal:
Current: 4.20mA
Pulse: frequency 0-1KHZ
Operating pressure:
DN10 - DN65: ≤2.5Mpa,
DN65 - DN150: ≤1.6Mpa,
DN150 - DN2000: ≤1.0Mpa
(Customization available)
Electrode material:
Platinum, Hastelloy, 316 stanless steel,Tantalum, Titanium , Wolfram Carbide
Lining material:
PTFE(≥DN10), Neoprene(≥DN65), F46, Polyurethane
Housing, flange material:
Carbon Steel(standard), stainless steel (customizable)
Excitation method:
Low frequency rectangle wave, High frequency excitation.
Excitation current:
160mA
Medium Temperature.:
-20°C~90&degC;~130&degC;~180&degC;(Refer to lining material)
Ambient Tmeperature:
Sensor: -40°C~80°C; Converter: -15°C~60°C.
Ambient Humidity:
≤85%RH (20°C)
Power consumption
Less than 20W
Structure
Integral type, wafer type
Electrical connection:
M20×1.5
Grounding:
Grounding ring, grouding electrode, gronding pipe
Exproof:
EXd ibⅡBT4
Process connection:
Flange
Protection class:
Integral type: IP65; Wafer type: IP65 or IP68

Datasheet Request